Matcha Cupcakes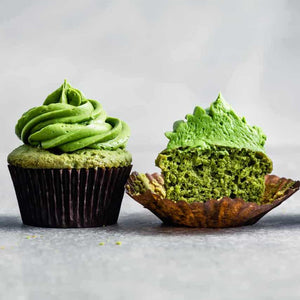 Cook Time
Preparation time: 15 minutes
Cooking time: 25 minutes
Total time: 40 minutes

Serving Size
12 cupcakes

About
Inviting a bunch of vegan friends over a tea party? The matcha green tea cupcakes are something you should not miss at all. Made from 100 % vegan and gluten-free ingredients, these cupcakes will blow your mind. the smell of freshly baked cupcakes with a hint of matcha fragrance that will linger in the air will make replenish your senses. To take things to the next level, decorate the cupcakes with matcha frosting!
The best thing about these cupcakes is that even though matcha has a green color, these cupcakes are just like your regular ones. No one will notice it until they dig into it. And if you want to make the cupcakes scream matcha, simply add green food color.

Ingredients
Cupcakes:
• 1 ¾ cup all-purpose flour
• 1 cup soya milk
• 1 cup sugar
• 1/3 cup olive oil
• 1 tsp baking soda
• 3 tbsp Mantra Matcha: Premium Ceremonial Matcha
• 1 tbsp vinegar
• ½ tsp vanilla extracts
• A pinch salt

Frosting:
• 2 ½ cups powdered sugar
• 3 tbsp soya milk
• 2 tbsp matcha powder
• 1/3 cup butter

Instructions
Step 1: In a bowl, add flour, matcha powder, baking soda, sugar, and salt and mix well.
Step 2: In another bowl, add olive oil, soya milk, vinegar and vanilla extracts and mix well.
Step 3: Pour wet ingredients into dry ingredients and mix well until the mixture is lump-free.
Step 4: Line the cupcake tray with liner and pour the batter evenly.
Step 5: Bake the cupcakes in a preheated oven at 350-degree F for 25 minutes.
Step 6: Once the cupcakes are done, transfer them to a cooling rack.
Step 7: In an electric bowl, add sugar, soya milk, matcha powder and butter and mix at medium speed for 2 minutes to prepare the frosting.
Step 8: Gradually increase the speed as the frosting thickens.
Step 9: Once the cupcakes are cool enough, frost them and dust matcha powder at the top.
---