Matcha Rice Krispies Treats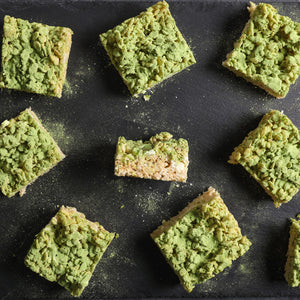 Cook Time
Preparation time: 5 minutes
Cooking time: 5 minutes
Total time: 10 minutes

Serving Size
4

About
Are you bored with regular deserts or cookies? We have a new idea to crave your sweet tooth! The combination of Marshmallow and crispy rice is not new. However, what's new is Matcha powder! Think of enjoying the earthy and floral flavor of matcha with a sweet and subtle taste of white chocolate. On top of everything, the butteriness and crunch of crispy rice will take you to another world. These matcha marshmallow crispy treats is a perfect indulgence for every occasion!

Ingredients
• 1 lb. marshmallows
• 5 tbsp butter, unsalted
• 8 cups Rice Krispies
• 1 cup chocolate chips, white
• 2 tbsp Mantra Matcha: Premium Ceremonial Matcha
• 1 tsp salt

Instructions
Step 1: In large saucepan or pot melt butter and add marshmallows.
Step 2: Cook the marshmallows for 3 minutes, continually stirring with a wooden spoon until they are completely melted.
Step 3: Remove it from heat and add rice cereal.
Step 4: Stir constantly and let it sit for a minute or two.
Step 5: Add white chocolate and salt and mix well.
Step 6: Grease a 9 by 13-inch baking tray with butter and pour in the mixture.
Step 7: Press the mixture to get even surface.
Step 8: Let it sit for 45 minutes at room temperature.
Step 9: Cut in squares, dust with matcha powder and serve.
---