Superfood Berry Matcha Pie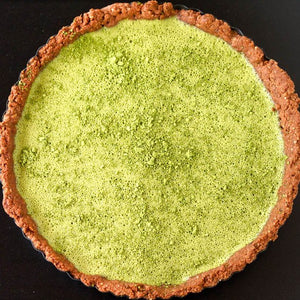 Cook Time
Preparation time: 10 minutes
Cooking time: 50 minutes
Total time: 60 minutes

Serving Size
8

About
Say hello to the new pie in town. Enjoy the vibrant green color and floral, earthy flavor of matcha in your pie. This matcha pie takes up the culinary art of making pies to the next level. And the best part is, it is super easy to make. Simply serve it with whipped cream, and everyone will fall in love with the rich and delicious flavor.

Ingredients
• 10-inch pie shell
• 2/3 cup sugar
• 1 ½ tbsp all-purpose flour
• 2 tsp Mantra Matcha: Superfood Berry Matcha
• 3 eggs plus 1 yolk
• 2 cups heavy cream
• ½ tsp vanilla extract
• A pinch salt
• Whipped cream

Instructions
Step 1: In a mixer bowl, add matcha powder, flour, sugar and salt.
Step 2: Add butter and beat using an electric beater.
Step 3: Add eggs one at a time and continue to beat.
Step 4: Add egg yolk and continue.
Step 5: Add cream and beat at a low speed for half a minute.
Step 6: Add vanilla extract and mix using a spatula.
Step 7: Pour the batter in the pie-shell.
Step 8: Place the mold in a preheated oven at 325 degrees.
Step 9: After 35 minutes, reduce the temperature to 180 degrees and bake for 15 minutes.
Step 10: Take it out of the oven and let it cool.
Step 11: Garnish the top with whipped cream and serve.
---