Cinnamon Goji Matcha Donuts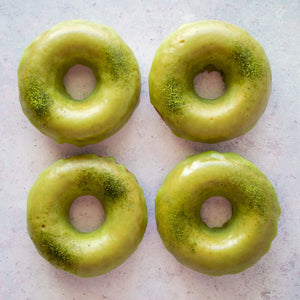 Cook Time
Preparation time: 10 minutes
Cooking time: 8 minutes
Total time: 18 minutes

Serving Size
6 donuts
About
Matcha is an amazing ingredient. It is versatile and a healthy alternative to beverages like coffee. You can use it in a number of different recipes. From making smoothies to latte, matcha knows how to make its presence known. One such way you can use matcha is by making donuts. Everyone loves donut. Even those who are vegan can't resist the sight of a fluffy and glossy donut.

Fluffy, 100% vegan, oil-free, gluten-free healthy matcha donuts with glossy matcha glaze will make your mouth water. The recipe is super easy to make, and once you try it, you will simply get addicted to the balance of flavors.
Ingredients
• 1 cup all-purpose flour
• ¼ cup of coconut sugar
• ¾ cup almond milk
• 2 tbsp maple syrup
• 1 tsp apple cider vinegar
• 1 tbsp Mantra Matcha: Cinnamon Goji Berry Matcha
• 1 tsp baking powder
• 2 ½ tbsp melted coconut oil
• ½ tsp vanilla extracts
• ¼ tsp salt
Matcha Glaze
• 1 cup sugar, powdered
• ¼ tsp Mantra Matcha: Cinnamon Goji Berry Matcha
• 1 tsp almond milk
• 1 tsp lemon juice
Instructions
Step 1: In a large bowl, add flour, coconut sugar, matcha powder, baking powder and salt and mix well.
Step 2: In a separate bowl, add almond milk, maple syrup, vinegar, coconut oil and vanilla extract and mix well.
Step 3: Pour the wet ingredient mixture over the dry mixture and mix well with the help of a spatula.
Step 4: Grease a donut pan and spoon the mixture into the pan until it is ¾ filled.
Step 5: Place the donut pan in a preheated oven for 8 minutes at 350°F.
Step 6: Once the donuts are done, remove the pan from the oven and let it cool.
Step 7: In a bowl, add sugar, matcha powder, lemon juice and milk and whisk until you get a silky texture.
Step 8: Once the donuts are cool, dip the top of each one in the glaze and dust some matcha powder on top.
---