Lemon Matcha Muffins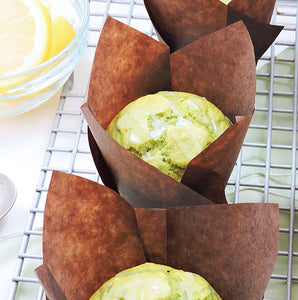 Cook Time
Preparation time: 10 minutes
Cooking time: 18 minutes
Total time: 28 minutes

Serving Size
6-8 muffins

About
You might be a cupcake lover, but muffins have their league. A fluffy and light muffin is a treat in itself. To add a new flavor combination to your list, we present to you tasteful Matcha lemon muffins. The tangy flavor of lemon along with the subtle taste of matcha complements each other perfectly well. This healthier version of the muffin is ideal for breakfast and snacking. Pair it with coffee or tea and enjoy!

Ingredients
Muffins
• 1 ½ cup flour
• ¾ tbsp baking powder
• 2 tbsp Mantra Matcha: Strawberry Lemon Matcha
• ¾ cup sugar
• ¾ cup almond milk, unsweetened
• ¼ cup oil
• 1 egg
• 1 tbsp vanilla extract
• ¼ cup lemon juice
• ½ tsp zest of lemon
• A pinch salt
Lemon Drizzle
• ¼ cup sugar
• 1 ½ tbsp lemon juice

Instructions
Step 1: In a bowl, add flour, baking powder, sugar, salt and matcha powder and mix well.
Step 2: In a separate bowl, add almond milk, egg, vanilla extract, lemon juice, oil, and lemon zest and mix well.
Step 3: Pour liquid ingredients in dry ingredients and mix lightly without over-beating or mixing.
Step 4: Line the muffin tray with muffin liner and pour the batter into the tray.
Step 5: Place the muffin tray in a preheated oven at 400-degree F for 15 to 18 minutes.
Step 6: Poke the toothpick into the muffins, if it comes clean, remove the tray from the oven and place the muffins on a cooling rack.
Step 7: In a bowl, add confectioner's sugar and lemon juice and mix well. Drizzle it over the muffins and serve.
---