Mint Chocolate Chip Matcha Popsicles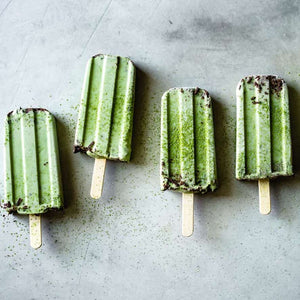 Cook Time
Preparation time: 40 minutes
Chilling time: 90 minutes
Total time: 130 minutes

Serving Size
4

About
Beat the summer heat this delicious, heavenly and fresh minty and chocolaty popsicle. And the star of popsicles is the Matcha green tea. A perfect snack for sunny afternoons, these matcha mint chip popsicles are super easy to make. With the freshness of mint, energy from the matcha, and creamy texture from cashew nuts and coconut milk is undoubtedly the best combination ever. The use of chocolate chips takes it up to the next level. Indeed these popsicles are perfect for refueling during a busy summer day!

Ingredients
• 50 g cashew nuts, unsalted and raw, soaked
• 1/3 cup water
• ¼ cup granulated sugar
• ¾ cup mint leaves
• 1 cup coconut milk, full fat
• 2 tsp Mantra Matcha: Premium Ceremonial Matcha
• 2-3 drops of peppermint extracts
• ¼ cup chocolate, chopped
• A pinch of salt

Instructions
Step 1: In a bowl, add cashew nuts and pour hot water over them. Let them sit for 40 minutes.
Step 2: Place a medium saucepan overheat. Add water and sugar and stir until the sugar dissolves completely.
Step 3: add mint leaves and stir for 2-3 minutes.
Step 4: Remove the pan from heat, cover it and let it sit for 5 minutes.
Step 5: strain the mixture. Squeeze the mint leaves to extract maximum flavor out of it. Discard the leaves.
Step 6: Drain the soaked cashew nuts, and put them in a blender bowl. Add a cooled mint syrup and blend for 2 minutes.
Step 7: pour coconut milk in the blender and blend until you get a smooth texture.
Step 8: Add salt, matcha powder and peppermint extracts into the blender and blend for 40 seconds.
Step 9: In a silicon popsicle mold of 4, sprinkle chocolate and pour in the blended mixture.
Step 10: Place the mold in the freezer for 30 minutes until the mixture in semi-solid.
Step 11: Take the mold out of the freezer, add in the rest of the chocolate, stick in the popsicle stick and place back in the refrigerator.
Step 12: Let the popsicles freeze for up to 2 hours or as long as it takes for them to firm up.
Step 13: Take the popsicles out of the mold and sprinkle matcha powder.
---