Strawberry Matcha Acai Bowl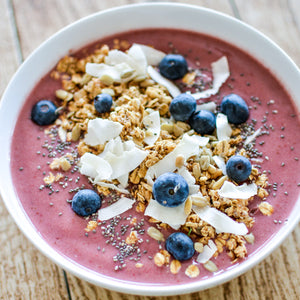 Cook Time
Preparation time: 5 minutes
Cooking time: N/A
Total time: 5 minutes

Serving Size
1

About
Drinking smoothies is one thing but eating it like a full-fledged meal with a spoon is an entirely different experience. The best thing about smoothie bowls is that you treat it like a meal. Add on several toppings like coconut flakes, of chia seeds etc. and enjoy a burst of different flavors. Acai and strawberry are a match made in heaven, and adding matcha powder to it takes it to a whole new level. This smoothie bowl is not only wholesome, but it is also full of nutrients. So, start your day with delicious Matcha Acai and Strawberry Smoothie Bowls.

Ingredients
• 1 ½ cup strawberries, fresh or frozen
• 1 cup banana, fresh or frozen
• ¼ cup blueberries, fresh or frozen
• 2 tbsp Mantra Matcha: Strawberry Lemon Matcha
• 1 tsp flaxseeds
• ¼ cup acai berry juice
• ¼ cup almond milk
• Coconut flakes for topping

Instructions
Step 1: In a blender, add strawberries, banana, blueberries, matcha, flaxseeds, acai berry juice, and almond milk.
Step 2: Blend the ingredients for 2 minutes until you get a smooth texture.
Step 3: Pour the smoothie in a bowl.
Step 4: Sprinkle coconut flakes.
---