Banana Matcha Pancakes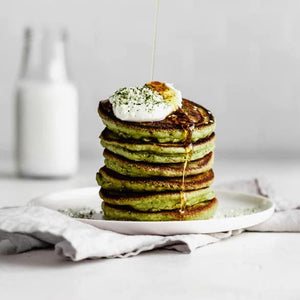 Cook Time
Preparation time: 10 minutes
Cooking time: 5 minutes
Total time: 15 minutes

Serving Size
4

About
Matcha pancakes provide a healthy, gluten-free and grain-free alternative to regular pancakes. These pancakes are light and fluffy and come as a fantastic option in a keto diet. And the best part is that since these pancakes are made from almond flour, its richness along with the matcha makes a perfect pair. And if you have leftover pancakes, you can store them in the refrigerator for the next day. Simply, reheat them, and they are good to go. Drizzle maple syrup or honey to satisfy your sugar craving!

Ingredients
• 2 cups almond flour
• 6 tsp Mantra Matcha: Banana Cacao Matcha
• 4 eggs
• ½ cup coconut milk, light
• 2 tbsp sugar
• 1 tsp baking powder
• 1 tsp vanilla extract
• ½ tsp salt
• oil for frying

Instructions
Step 1: In a large bowl, add almond flour, matcha powder, sugar, baking powder and salt and mix well.
Step 2: In another bowl, add eggs, coconut milk, and vanilla extract and mix well.
Step 3: Pour wet ingredients into the dry ingredients and mix well using a spatula until everything is well combined.
Step 4: Place the frying pan of a medium heat and grease it with oil.
Step 5: Scoop batter into the frying pan.
Step 6: Cook it for 2 minutes until you see small bubbles appearing.
Step 7: Flip the pancake and cook the other side for 2 minutes.
Step 8: take out the pancake on the plate.
Step 9: Pour maple syrup and dust matcha powder. Enjoy!
---