Banana Matcha Waffles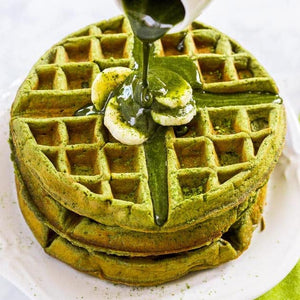 Cook Time
Preparation time: 10 minutes
Cooking time: 10 minutes
Total time: 20 minutes

Serving Size
4 waffles

About
Waffles is a breakfast staple loved by many. Top it up with whipped cream and maple syrup, and it will become hit in an instant. However, if you are looking for a nutrient-rich waffle recipe, try the Matcha waffles. It is made from clean and healthy recipes. The natural ingredients make it an ideal food for not only adults but kids as well. And to make things interesting, the green agave syrup takes the visual and taste to the next level.

Ingredients
• 1 ¾ cup oat flour
• 2 large eggs
• 2 medium bananas, mashed
• 1 ¼ cup whole milk
• ¼ cup coconut milk
• ¾ tbsp baking powder
• ¼ cup and 1 tbsp olive oil
• 3 tbsp Mantra Matcha: Banana Cacao Matcha
• ¾ tbsp vanilla extracts
• 1 ½ tbsp honey
• A pinch salt
• ¼ cup agave syrup
• 2 tbsp matcha powder

Instructions
Step 1: In a bowl, add oat flour, matcha powder, baking powder and salt and mix well.
Step 2: In a separate bowl, add whole milk, coconut milk, olive oil, vanilla extracts and honey and mix well.
Step 3: Pour the wet ingredients into the dry ones and whisk until you get a smooth consistency.
Step 4: Let the batter sit for 10 minutes.
Step 5: Grease the waffle iron and heat it.
Step 6: Pour ½ cup worth batter into the waffle iron and cook it for 4-5 minutes.
Step 7: In a bowl, add agave syrup and 2 tbsp matcha powder and mix well.
Step 8: Pour the syrup over waffles.
---