Matcha Gin Cocktail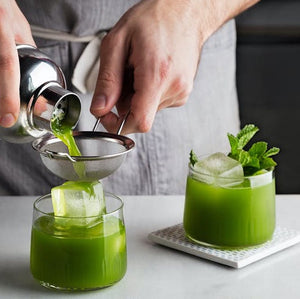 Cook Time
Preparation time: 10 minutes
Cooking time: N/A
Total time: 10 minutes

Serving Size
4

About
Looking for a new, innovative and exciting cocktail recipe? How about using matcha powder? Yes, you read just right. Matcha is a superstar ingredient, and the best part is you can use it in almost everything, from sweet to savory and even in cocktails. The freshness of mint and lime along with the sweetness of honey and the earthiness of matcha, when shaken up with gin, will give you a taste that will blow your mind and become an instant hit!

Ingredients
• ½ cup mint leaves
• 3 tbsp honey
• 3 tbsp lime juice
• 3 cups of water
• ¾ cup gin
• 1 tsp Mantra Matcha: Premium Ceremonial Matcha
• 1 cup ice

Instructions
Step 1: In a cocktail shaker, add mint, honey, lime juice, and water and shake well.
Step 2: Add matcha powder and shake for a minute again.
Step 3: Pour in ice-filled glasses over a sieve and serve.
---