Matcha Mochi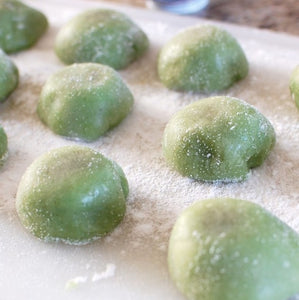 Cook Time
Preparation time: 10 minutes
Cooking time: 80 minutes
Total time: 90 minutes

Serving Size
4

About
You might have heard of mochi- a Japanese rice cake which has its own unique soft, sticky and chewy texture. Well, we're stepping it up a notch with an fusion of matcha. The chewy texture of mochi, earthiness of matcha and sweetness and creaminess of coconut milk gives it a unique, tasteful and addictive flavor.

Ingredients
• ¾ cup sweet rice flour
• ½ cup sugar
• ¼ tsp baking powder
• 1 tsp Mantra Matcha: Premium Ceremonial Matcha
• ½ cup water
• ¼ cup + 1 tbsp coconut milk
• ¼ tsp vanilla extract
• ½ cup Corn flour

Instructions
Step 1: In a bowl, add rice flour, matcha powder, baking powder and sugar and mix well.
Step 2: In another bowl, add coconut milk, vanilla extract and water and mix well.
Step 3: Pour liquid ingredients in the dry ingredients and whisk until you get a smooth consistency.
Step 4: Grease an 8-inch baking pan and pour the mixture in it.
Step 5: Cover with an aluminum foil and place it in a preheated oven at 275 degrees.
Step 6: Bake for 80 minutes.
Step 7: Remove from the oven.
Step 8: Remove the foil and let it cool down at room temperature.
Step 9: Place mochi on a cutting board and cut into cubes. Dust with corn flour and serve!
---