Matcha Spaghetti Noodles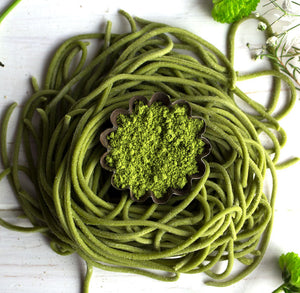 Cook Time
Preparation time: 15 minutes
Cooking time: 8 minutes
Total time: 23 minutes

Serving Size
4

About
If you are a pasta lover, you will know that happiness and sense of achievement in making your own pasta. You might have spent hours in mastering the art of making your own noodles, but tell me honestly, how many times have you tried a new ingredient to give your pasta a unique flair? You might have heard about beetroot pasta or spinach pasta, but you have bought you something you might haven't ever thought of or heard of before. It is the Matcha Pasta!
So, without further waiting, lets head to the recipe!

Ingredients
Matcha Spaghetti:
• 3 cups all-purpose flour
• 2 large eggs
• ½ cup water
• 4 tbsp Mantra Matcha: Premium Ceremonial Matcha
Sauce:
• 4 tbsp olive oil
• 2 medium red chilies, chopped
• 1 ½ tsp black pepper powder
• 2 tbsp fish sauce
• 2 cloves garlic, crushed
• 1 cup grated romano cheese

Instructions
Step 1: In a bowl, add eggs and water and whisk.
Step 2: Add matcha powder and mix well.
Step 3: Let it sit for 5 minutes.
Step 4: In a large bowl, add flour and pour over matcha mixture.
Step 5: Knead the dough for 10 minutes until you get hard and chalky.
Step 6: Cover it with clingfilm and let it rest for an hour.
Step 7: Unwrap the dough and cut it in half.
Step 8: Roll the dough and pass it through pasta maker until you get a 2 mm sheet.
Step 9: Cut it with either a spaghetti cutter or a knife to get noodles.
Step 10: In a large pot, boil water and add noodles.
---